[17 OCT 00] LAND ROVER NEWS
Roll Up For Ronan Keating's Dream Land Rover
BY ANTONY HOPKER

Pop star Ronan Keating has drawn his dream Land Rover for a special charity event at the Motor Show at the NEC.

His is one of a number of celebrity sketches drawn to raise money for BEN, the motor industry's benevolent fund.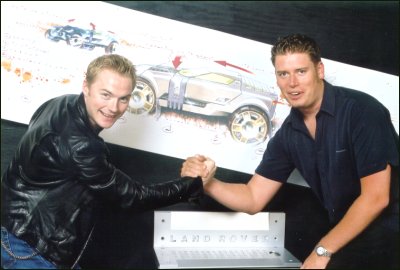 RONAN KEATING WITH DESIGNER DALE GREWER
The drawing, which is on display in Hall Three, will be auctioned off later this week."
The Boyzone heartthrob said:
"I've been passionate about land rover for years and it was a real pleasure to help conceive a Land Rover for the future.

"I tried to make my design look as sporty as possible while preserving the characteristics of this great 4x4 brand."
After Ronan came up with the idea, it was put together with the help of Dale Grewer, who is New Concept Designer at Land Rover.
Dale said:
"With Ronan's immense enthusiasm and passion for Land Rover, it was difficult to decide which ideas and features to leave out from his dream vehicle.

"The drawing displays futuristic energy and excitement for the best off-road vehicle in the world."