[17 SEP 99] LOTUS CARS NEWS
Lotus M250 Boost For Former MGA Staff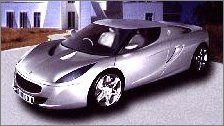 Employees who feared for their jobs when their Coventry company went into receivership are now set to become the focus of world-wide attention.
Last year Allesley-based MGA Developments' assets were bought by Lotus after the Birmingham Road company went into receivership, leaving the staff unsure about their future.
However, the 17 employees who still work on the site are now glowing with pride after working round the clock to help the famous car manufacturer prepare their newest model for the Frankfurt motor show.
Lotus Coventry was sent a model of the M250 just five week ago with a deadline of this weeks show, and general manager Glyn Owen believes it has been a team effort since then.
He said:
"We received the clay model of the car five weeks ago, and the normal turn-around to build that into a workable model would be 12 weeks.

"You can sometimes cut the odd week but not normally anything to that scale, but we have some very experienced guys here and as a team everyone has worked tremendously.

"We now employ around 45 people, 17 of which formerly worked on this site before and I think every person, when the saw the car being loaded onto the transporter to go to Frankfurt, was glowing with pride."
And Lotus are now spending a substantial amount of money on their 70,000 sq ft site in order to prepare for an upturn in business.
He said:
"We are close to the end of a refurbishment inside the building which will improve our engineering facilities, and we are also looking at visually improving the premises externally.

"We want to make this a nice environment to work in and build on the success that we have achieved over the last few weeks."
The Lotus M250 will have a 3-litre V6 engine with speed limited to 155 mph – but the company do not yet know when it will be available as a production model.