[30 MAY 00] MIRA NEWS
Bottom Falls Out Of Car Seat Testers Market

A giant electronic bottom is wiggling on car seats in Warwickshire to test them out for your future comfort.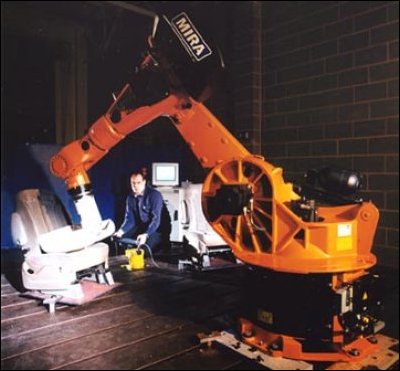 THE KUKA 150 TESTING A SEAT
The huge robot has been taken on at MIRA in north Warwickshire to improve the speed at which new seats can be checked out for safety, durability and comfort.
The machine, which wiggles in the car seat, can test up to seven different seats at once.
The KUKA 150, which has an Occubot "end-effector" attached to it, cost almost £100,000 and is the first robot of its kind taken on at the research centre, and the first offering this sort of test in Europe.
It can test up to seven different kinds of seat at once, and can carry out 30,000 cycles a week - equivalent to three lifetimes' wear and tear for the driver's seat in a family car.
The machine can emulate normal everyday usage including getting in and out of the car.
There are 400 individual tests to which a full set of vehicle seats can be subjected, although not all new seats undergo the maximum number of tests.
The KUKA 150 will be transported to Basildon at the end of June for the official opening of the MIRA European Systems Test Operations.
It will then return to MIRA's test-and-development facility in the centre of Nuneaton.
Gordon Bacon, who heads MIRA's European Systems Test Operations, said:
"Introduction of our first robot brings us enormous advantages and advances.

"It brings heightened reality to the seat test process thanks to the programmability of the machine which allows it represent an almost infinite range of occupant and vehicle combinations.

"These range from a well-built truck driver getting in and out of his van to an average-sized construction worker driving an off-road vehicle and youngster climbing in and out of family car seats."
Dr Bacon added that many tests require the upholstery to recover from 20 to 30 seconds, during which time a normal rig would have to remain idle.
But the KUKA 150 can be programmed to keep going and move to the next seat for testing.
He said:
"We have no doubt that this is the future of seat development and testing and we are proud to be the first in Europe to offer the technology."
And car seat testers would also be grateful for the break.
Dr Bacon said:
"We have in the past employed humans to get in and out of cars. It's not a very pleasant job and few of us would want to go through this routine 30,000 times."