[01 DEC 98] PEUGEOT PRESS RELEASE
900 New Jobs At Peugeot's Ryton Plant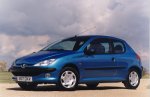 Up to 3,000 new jobs will be created in the Midlands, following Peugeot's decision to increase production at its Ryton, Coventry plant early in the New Year.
Currently 2,200 people are employed at Ryton and around 900 additional jobs will be created in preparation for the new shift, as well as a further 2,000 jobs identified with Midlands supplier companies.
The Ryton plant builds the recently introduced and massively successful Peugeot 206 range and will hit its two shift capacity of 2,500 cars each week by the end of the year and following the introduction of a new, third shift in May 1999, weekly production will be boosted to over 3,400.
Peugeot Managing Director, Richard Parham, announcing the expansion plans said:
"The increase in production is required because of the huge pan-European sales success of the 206 range. Here in the UK, where we only introduced the 206 six weeks ago, we have already sold over 6,500 since launch on 5 November. In Europe, Peugeot has taken around 180,000 orders for the car since it went on sale in September."
The Peugeot 206 range is also built at the Group's sister plant Mulhouse in France, and both plants are facing massive demand for additional supplies.
Mr Parham added:
"We have won this decision because the annualised hours agreement we reached 2 ½ years ago has given us significant additional flexibility. The Ryton employees deserve a tremendous pat on the back for improving productivity and quality standards that has allowed this expansion to take place. Their efforts have opened employment opportunities to thousands of Midlands workers and secured further investment for Peugeot in the UK."
MORE INFORMATION: Peugeot Press Office 01203 884212