[28 JAN 99] PEUGEOT PRESS RELEASE
25-Year UK Production Record Shattered

Peugeot's Ryton plant in Coventry last week built 2,965 new 206 hatchbacks - the highest weekly production total since 1973.

The record crashed as employees at the Peugeot factory began overtime working to cope with the runaway demand for the new 206 range.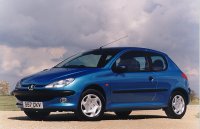 An extra shift and 950 new jobs are planned to satisfy the unprecedented level of 206 orders. But the new shift will not start until late April or May and, in the meantime, Peugeot has been forced to introduce overtime working to cope with the 206 demand.

Since the new shift and recruitment campaign was announced, Peugeot has received more than 10,000 applications. More than 250,000 206s have been sold across Europe since launch last October.
Said Peugeot's managing director, Richard Parham:
"This is a major achievement for us. The outstanding success of this car and our new production record is a tribute to the efforts and flexibility of our UK workforce."
MORE INFORMATION: Peugeot Press Office 01203 884212