[01 MAR 99] PEUGEOT PRESS RELEASE
The 206 Roland Garros With The All Glass Roof

The new 206 Roland Garros* - a luxurious addition to the highly-successful range of hatchbacks - has a unique all-glass roof, which allows passengers to enjoy the open sky above - without being open to the elements.

The unusual roof is, in effect, a fixed panoramic sunroof with an interior electrically-operated shutter blind, which rolls back the full length of the roof. Even in mid-winter, passengers can enjoy the sensation of being under an open sky, without opening the roof and having to withstand the cold, buffeting winds, or the noise and dirt of modern motorway traffic.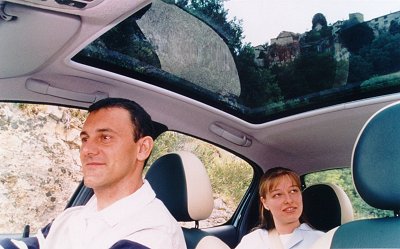 THE PEUGEOT 206 ROLAND GARROS WITH FIXED GLASS ROOF

The Roland Garros has the same sculpted, 5-door body style and high level of equipment that have made the 206 range such a runaway sales success. But, in the classic Roland Garros tradition, it offers exclusive extras designed to create a distinctive, luxurious character. As well as the unusual roof design, also standard are:
Digital air conditioning with climate control
Exclusive "Tie-Break" green metallic paint
Exclusive interior design based on oyster and green colour leather seat and steering wheel trim
Exclusive Roland Garros badging
The Roland Garros features as standard: alloy wheels, driver and passenger airbags, multi-disc CD player, front fog lights, automatic rain-sensing windscreen wipers, deadlocks, ultra-sonic alarm, electrically-operated, electrically-heated and electrically-folding door mirrors in body colour, power steering, and electric front and rear windows.



THE PEUGEOT 206 ROLAND GARROS

Optional extras include ABS braking, side airbags and satellite navigation (due later in the year). The Roland Garros comes with a 1.4 litre petrol engine with 5-speed manual transmission (max. speed 106mph, 75 bhp at 5,500rpm) or Peugeot's newest electronically-controlled automatic gearbox (max. speed 97mph, 75 bhp at 5,500rpm). It will be available from today (1 March) at the on-the-road prices of £12,745 for the manual version, and £13,645 for the automatic.

The 206 Roland Garros is assembled exclusively at Peugeot's Ryton factory in Coventry. The UK plant was chosen to build all 206 Roland Garros's for the British, French and world markets on the strength of its growing reputation for build quality and productivity.

*Roland Garros is the name of the fashionable stadium in Paris where the French Open Tennis Championships are held each year. Roland Garros, himself, was famous in France in the early 1900s as a pioneer aviator.

MORE INFORMATION: Peugeot Press Office 01203 884212