[03 MAR 99] PEUGEOT NEWS
Peugeot Returns To Profit

Peugeot – one of the Coventry's largest employers – has announced a return to profitability.

The Peugeot Citroen group, the largest car maker in France, turned a 422m euros deficit into a 484m euros surplus in just a year.

The annual figures announced in France include the UK operation, but figures for individual companies within the group will not be announced until April.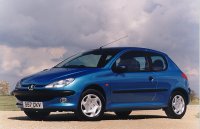 The Ryton plant has announced the creation of 950 jobs for a third shift on the new 206, which will see the factory producing 3,000 models – an all time record for the site.
Peugeot is Coventry's largest manufacturing employer, with Coventry Council heading the jobs list.
The group hopes to put on more sales in the coming year. It sold 2.28 million in the year to 1999 but is confident that will rise to 2.4 million despite an anticipated decline in the European car market.
The firm's results were good, but behind the 63 per cent rise announced by rivals Renault who made 1.35bn euros.
Shares in Peugeot Citroen dropped on the Paris stock market after the results were announced.