[11 MAR 99] PEUGEOT NEWS
Peugeot Wins £2m Of Government Aid

Coventry car maker Peugeot has won £2 million of government aid as it create 900 new jobs at Ryton.

The company is to take on a third shift to cope with demand for its new 206 range and up to 200 of the new posts will be filled by the long-term unemployed.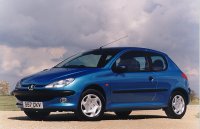 Peugeot had eight applicants for each job and recruitment has already started – but confirmation of the government backing confirms the company's £13 million investment in the plant.
Richard Parham, managing director of Peugeot, said the Regional Selective Assistance grant would allow the company to keep meeting demand for the new model. The firm is due to create 3,000 cars a week when it is up to full capacity.
"There is unprecedented demand for this car across Europe and we are working flat out to introduce the new shift in April," he said.
Trade and Industry Secretary Stephen Byers, said the company's policy of giving opportunities to unemployed people was a fine example.
"I particularly welcome the potential of this investment to create many new opportunities for long term unemployed people to get back into work, supported by government funded training.

"It is a great tribute to the skills and flexibility of the workforce at Coventry."
The government is currently deciding on an application for around £200m in grant aid to allow BMW to create a new model at Rover's Longbridge plant in Birmingham. A decision is expected by the end of the month.