[05 MAY 99] PEUGEOT PRESS RELEASE
Peugeot Launches The 206 GT

Over a decade after twice winning the world rally championship, Peugeot is returning to the sport with its dramatic looking 206 WRC (World Rally Car).

Developed alongside the successful range of Peugeot 206 passenger cars, the 206 WRC will be tested for the first time in this year's Corsican rally (Tour de Corse) starting on the 7 May 1999.

The 206 WRC uses many components derived from the road car including the main structure, front chassis and suspension, engine block and cylinder head.

Power output from the 2.0 litre 16 valve engine is increased to 300 bhp with maximum torque of 500 Nm. All four wheels are driven through a six-speed sequential gearbox.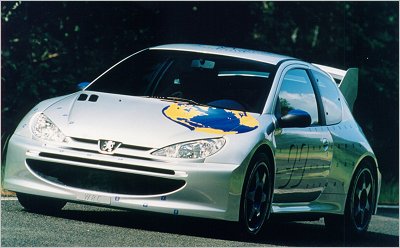 A rally sport heritage
The 206 WRC's debut in the Tour de Corse marks Peugeot's return to a sport in which it has excelled.
In the '80s the 205 T16 dominated, scoring world rally championship victories in 1985 and 1986 and was twice winner of the Paris-Dakar endurance rally in 1987 and 1988.
Success continued in the early '90s for the 405 T16 and more recently the 306 Maxi carried off two French rally championships and achieved second place on the famous Monte Carlo rally.
The 206 GT (Grand Tourisme)
To comply with international rallying regulations Peugeot will be building a total of 4,000 (minimum required 2,500) road going cars to the same overall dimensions of the 206 WRC. The 206 WRC is 4 metres in length compared to the standard passenger car's 3.83m.
These dramatic looking metallic silver cars will be badged 206 Grand Tourisme and will be powered by Peugeot's new 137bhp 2.0 litre 16 valve petrol engine soon to be introduced in the 206 GTi.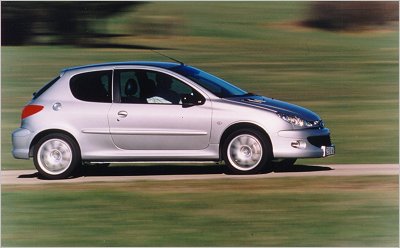 Driving through a 5-speed manual gearbox and dedicated 9-spoke, sixteen inch alloy wheels, the 206 GT can accelerate from 0 – 62mph in 8.9 secs. and is capable of 129 mph.

Body coloured wheel arch extensions, new bigger fibreglass reinforced bumpers and a machined aluminium fuel filler cap emphasise the car's sporting character.

The aesthetics inside the car continue the competition theme with leather trimmed sports seats, a three spoke sports steering wheel, aluminium accelerator pedal and a unique metal finish instrument cluster.

Despite its sporty looks, the 206 GT is a comfortable car and has been equipped to satisfy even the most demanding clientele. Standard features include automatic air conditioning, rain sensing windscreen wipers, RDS radio and CD player with remote digital display, side airbags and four head restraints.

Only six hundred right hand drive cars will be built from the total of four thousand. Each car will be authenticated with an aluminium plate bearing a serial number from 1 to 4,000 located on the door pillar.

The 206 GT will go into production at Peugeot's UK plant near Coventry in June and will be available to buy at a price of £15,695 on the road.

206 GT -STANDARD EQUIPMENT

Exterior:
extended front and rear bumpers
body-coloured front wing extensions
aluminium fuel filler cap
special 6.5 J 16 alloy wheels
SX GT 195/45 R 16 tyres
serial-numbered aluminium plate on door pillars
body-coloured side mouldings
electrically-folding door mirrors
double-parabolic smooth-lensed headlamps
lenticular fog lamps
chrome exhaust tailpipe
body-coloured door handles and number plate trim
black lacquered electric door mirrors
short radio aerial with amplifier
Interior:
electric windows with sequential control on driver side
door locking by HF plip
two front airbags
4-sensor ABS
power-assisted steering
air conditioning with automatic regulator
2040 radio with steering wheel control, 6 loudspeakers and remote display
automatic wipers with rain sensor
sports instrument panel with oil level and temperature display
three-trim sports seats (woven fabric, leather, Alcantara) with height adjustment
Alcantara trim to door panel inserts and lid to storage pocket
leather-trimmed steering wheel
aluminium gear lever knob
aluminium pedals
aluminium door handles
side airbags
6-disc CD player in the boot
rear head restraints
special metallic instrument panel