[31 JUL 00] PEUGEOT NEWS
Peugeot Strike On Hold
BY ARRYN BUGGINS

A halt has been called to strike action at Peugeot's Ryton plant – for yet more talks.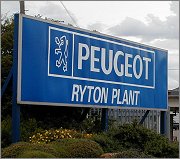 With staff heading into their summer shutdown and at the end of two days of strike action, few expected them to come back to work on 21 August.
A wafer-thin ballot result meant they would be heading into an all-out stoppage and management were going to issue the new contracts.
Although the new contracts allow for a shorter working week, the new deal also means extra Friday-night shifts for weekday workers and Monday shifts for weekend staff.
But the company is going to hold off issuing the new contracts for three weeks and more talks will take place. That means work should begin again in three weeks.
Reacting to the announcement that agreement has been reached with Peugeot to suspend further industrial action, AEEU chief negotiator in the Motor Industry, Duncan Simpson, said:
"By agreeing to suspend the imposition of new contracts Peugeot have avoided further industrial action. We can now suspend our protest.

"Peugeot have agreed to delay for three weeks the revised contracts they were planning to impose from 21 August. When workers return from the holiday break they will still be working under their existing contracts.

"Further talks will resume after 21 August with a view to reaching agreement on a shorter working week.

"There are still some tough negotiations ahead but given the correct spirit and intent from both sides we are optimistic that a deal can be done. This is a positive development for the Ryton plant."
There were stoppages on Thursday and Sunday, both estimated to have lost the plant £6 million each day.