[09 OCT 00] PEUGEOT NEWS
Design The Car Of The Future

People with a vision of the future could see their design for the car of 2020 turned into reality in an internet competition run by Peugeot.

The contest is open to anyone aged over 14 and the winning entry will be built as a concept car and displayed at an international motor show.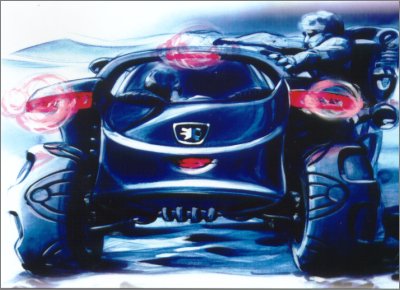 To enter people need to send one or more designs via the internet site. These can be of a view from any angle, such as interior, exterior, front view, and should be accompanied by test explaining the idea.
The winner will be chosen by an on-line vote.
Peugeot PR director Andrew Didlick said:
"Imagination and creativity are the key to winning – not design expertise.

"It's exciting because everyone has a chance."
To get the ball rolling Peugeot has put some ideas of its own on the site, allowing surfers to look through 2005, 2010 and 2020.
The judges will be looking for the design that captures the spirit of Peugeot cars
Entries must be in by the end of the year, and the winning design will be built in March 2001 and displayed at the Frankfurt Motor Show in September.