[09 OCT 00] PEUGEOT NEWS
206 Leads Peugeot To Sales Record

Peugeot has passed another sales landmark, seizing a record share of the market for a month when the car number plates changed.

The Coventry-based company took nine per cent of the market share, with the 206 leading the way by becoming the first Peugeot to capture more than four per cent of the market.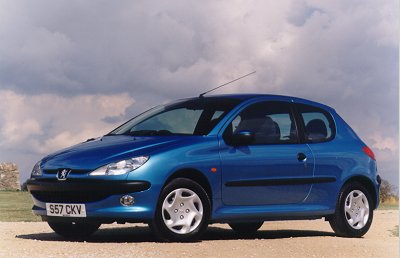 THE EVER-POPULAR PEUGEOT 206
And the car, produced at Ryton, is the most popular car that British people have chosen to buy with their own, rather than their company's, money.
So far this year three-quarters of all sales have been to private buyers.
Managing director Tod Evans said:
"The fact that retail sales have played such a big role in this record sales performance confirms our customers believe we're selling a great product at excellent value."
The market share of 9.12 per cent was the highest ever for a plate-change month, with 32,242 new cars being registered. It is also the first time that sales have gone past nine per cent for a quarter, from July to September.
The 206's 4.47 per cent market share breaks the previous best for a Peugeot car, set by its predecessor the 205 in August 1991.
With retail market share standing at 6.4 per cent, it is the country's bestseller. 135,000 have been sold since the car's launch a year ago.