[20 OCT 00] PEUGEOT NEWS
206 Coupe Scoops Top Award

Peugeot bosses are celebrating after the latest model of the Coventry-made 206 was named car of the show at the British International Motor Show.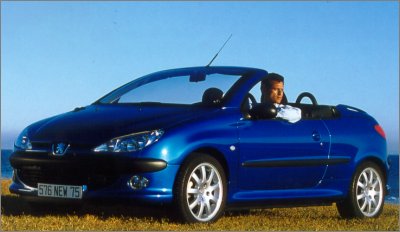 PEUGEOT 206 COUPE CABRIOLET
The prestigious award was made by senior design engineers from the motor industry shortly before the NEC show was thrown open to the public.
The 206 Coupe cabriolet was picked out as the vehicle which demonstrated the most significant breakthrough in engineering.
The £16,000 two-litre 16 valve engine car has broken new ground by having a folding hard-top roof.
The Corus IvehE "Car of the Show" award was presented at a gala dinner attended by 500 personalities from the motor world.
Professor Jon King, director of Corus Automotive Engineering, said:
"Peugeot has successfully challenged the norm, which could lead to many more people being able to enjoy the pleasure of open-top motoring.

"The Peugeot's folding metal roof performs an effortless mechanism ballet as it transforms the chic coupe into a stylish roadster.

"Peugeot's pursuit of design engineering excellence combines the security and safety of a hard-top with the fun of open top motoring – all at the touch of a button."