[28 NOV 00] PEUGEOT NEWS
Peugeot Rallies To Double Victory

Peugeot Sport is celebrating a double victory after only their first full year in rally car racing with the 206.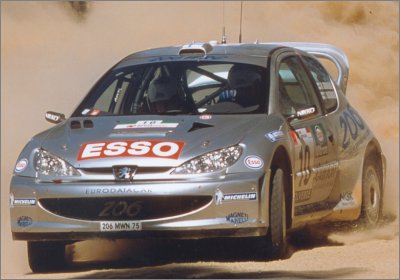 MARCUS GRONHOLM EN ROUTE TO TAKING THE TITLE
Not only did the team achieve its aim of winning the manufacturers' title, but also clinched the drivers' championship thanks to Marcus Gronholm.
Coming into last week's rally of Great Britain he and co-driver Timo Rautiainen only needed to finish in the top five to secure victory.
The 32-year-old battled through tricky conditions to finish second in the event and push Richard Burns out of contention for the overall title.
Andrew Didlick of Peugeot said:
"Peugeot Sport's declared objective at the beginning of the season was to win the manufacturers' title. To win this and the drivers' championship in the first full year is a fantastic achievement for the whole team."
Tests are now being arrange to prepare the car during the short break before next season starts with the Monte Carlo Rally in January.