[12 FEB 01] PEUGEOT NEWS
Peugeot Allows A Glimpse Of The 307

Coventry-based Peugeot has released the first official look at the 307, the model which replaces the all-time best seller 306.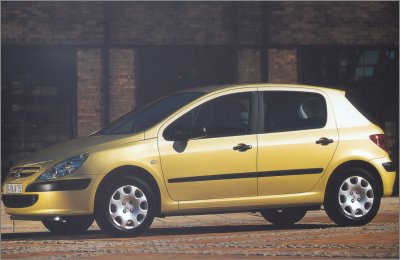 THE PEUGEOT 307
It will be launched in the UK in June in a range of three petrol and three turbo diesel Hdi engines. There will be 79 different combinations of interior finishes.
Peugeot bosses say it will be one of the biggest cars in its class and offers an unbeaten range of safety and security features.
An air-conditioned glove box is standard on most models, to keep drinks cool, and there are slide-out trays under the front seats to allow valuables to be kept out of sight.
It has six airbags as standard, and head-restraints designed to minimise whiplash by following the movement of the occupants' necks. There are also three-point seat-belts in the back, and rear head restraints.
ABS and EBFD (Electronic Brake Force Distribution) are standard, and there is a new braking system which senses when sudden heavy braking is applied and increases the pressure on the brake pedal, while cutting off the fuel supply.
Door linings have been reinforced to make it harder for thieves to break into, central locking can be activated from an emergency button on the dashboard.
The boot automatically locks when the car goes above 6mph, so thieves cannot get into it when the car is stopped in traffic.
Details of the car itself, including the specification, price and what it will be like to drive, have not yet been released.