[09 SEP 01] PEUGEOT NEWS
Ryton Makes Half A Million

Staff at Peugeot's Ryton plant are celebrating after the half-millionth 206 to be built in Britain rolled off the assembly track.

This milestone was reached in record breaking time since the car was introduced in the UK just under three years ago. It is the first time that so many vehicles have been produced so quickly in Rytonís history.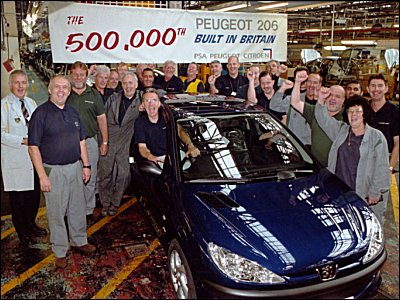 THE 500,000TH PEUGEOT 206 BUILT IN BRITAIN
The Ryton plant just to the east of Coventry is one of the success stories of the PSA Peugeot CitroŽn group. Output has continued to grow in recent years and investment has been available to make this plant the success it is.
Manufacturing director, Christophe Gauthier said:
"It has been a terrific period for the plant in terms of production output and quality and we are well placed to continue with our stunning success. The plant is working at full capacity producing cars seven days a week.

"Everyone at Ryton can look to the future with confidence as demand for the 206 remains high. The appeal of the 206 is universal. Cars are exported all over the world and particularly to one of the most demanding markets, Japan. Here in the UK, 206 is the most popular car with private buyers and the second best seller overall.

"This year, Ryton will produce nearly 200,000 vehicles which is an increase of about 2% on 2000."

FACTFILE - PEUGEOT RYTON
MODEL

NUMBER PRODUCED
RYTON PRODUCTION STARTED
RYTON PRODUCTION ENDED

206
500,000
1998
ONGOING
306
427,011
1992
1998
405
475,699
1987
1993
309
118,430
1985
1989
HORIZON
51,804
1981
1985
SOLARA
66,557
1980
1985
ALPINE
144,469
1976
1985
AVENGER
637,729
1969
1977
| | |
| --- | --- |
| Total manufacturing employees @ July 2001 | 2983 |
| | |
| Cars built per week | 4280 |
| | |
| Proportion of vehicles exported in 1999 | 63% |
| | |
| Proportion of vehicles exported in 2000 | 58% |