[01 FEB 99] ROVER GROUP NEWS
Rover 75 Pricing Announced

Rover has confirmed launch prices of the all-new Rover 75. Starting at £19,525 (on the road) for the 1.8 'Club' model, the 16 model range line-up extends through to the 2.5 V6 'Connoisseur' priced at £25,625.

The car, which was revealed at the Birmingham International Motor Show in October 1998, will ultimately be available in three 'comfort' levels; Classic, Club and Connoisseur.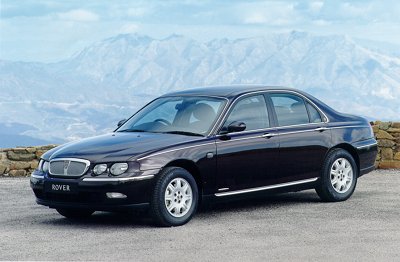 THE ROVER 75

The Club and Connoisseur ranges will be available at sales launch. The Classic version, with prices beginning at £18,250, will be on sale by the end of the year. Rover 75 will be delivered to customers from mid-June.

The Rover 75 takes its name from the classic Rovers of the 1940s & '50s and is the result of a £700 million investment in design, development, and new facilities at Rover Oxford. The car is the first all-new Rover model for 20 years and is designed to be a thoroughly modern car whilst carrying forward the traditional British design cues of the classic '40s and '50s Rovers.

The Rover 75 has a choice of four engines; 1.8, 2.0 V6 and 2.5 V6 petrol and a 2.0 diesel, and two gearbox configurations; a five speed Getrag gearbox or a new five speed JATCO electronic automatic transmission.

The Rover 75 has been designed to be 'the best front-wheel drive car in the world', providing outstanding comfort levels in a 'solid as a rock' body which has twice the rigidity of Rover 600.

The use of zinc coasted high-strength steels, four-wheel sensing ABS, driver and passenger front & side airbags and electronic brake distribution means that occupants are protected by a 'shield of safety'.

Comfort and elegance of the vehicle is exemplified, even at base level, by such features as electric front windows, an integral pollen filter and a luxurious interior with a full-width wooden dashboard, dual-hardness 'armchair' seats, leather trim and six speaker radio/cassette.

Complementing each 'comfort' level are Special Equipment (SE) models. These models are an integral part of the Rover 75 line-up, tailored to offer customers a wider choice of the most popular options and features.

Rover 75 Pricing Details:
| | | |
| --- | --- | --- |
| MODEL | RETAIL PRICE | OTR PRICE |
| 1.8 CLASSIC** | 18,100 | 18,275 |
| 1.8 CLASSIC SE** | 18,800 | 18,975 |
| 1.8 CLUB | 19,350 | 19,525 |
| 1.8 CLUB SE | 19,700 | 19,875 |
| 1.8 CONNOISSEUR | 20,750 | 20,925 |
| 1.8 CONNOISSEUR | 22,350 | 22,525 |
| | | |
| 2.0 V6 CLASSIC** | 19,750 | 19,925 |
| 2.0 V6 CLASSIC SE** | 20,450 | 20,625 |
| 2.0 V6 CLUB | 21,000 | 21,175 |
| 2.0 V6 CLUB SE | 21,350 | 21,525 |
| 2.0 V6 CONNOISSEUR | 22,400 | 22,575 |
| 2.0 V6 CONNOISSEUR SE | 24,000 | 24,175 |
| | | |
| 2.5 V6 CLASSIC** | 21,200 | 21,375 |
| 2.5 V6 CLASSIC SE** | 21,900 | 22,075 |
| 2.5 V6 CLUB | 22,450 | 22,625 |
| 2.5 V6 CLUB SE | 22,800 | 22,975 |
| 2.5 V6 CONNOISSEUR | 23,850 | 24,025 |
| 2.5 V6 CONNOISSEUR SE | 25,450 | 25,625 |
| | | |
| 2.0 CDT CLASSIC** | 19,300 | 19,475 |
| 2.0 CDT CLASIC SE** | 20,000 | 20,175 |
| 2.0 CDT CLUB | 20,550 | 20,725 |
| 2.0 CDT CLUB SE | 20,900 | 21,075 |
| 2.0 CDT CONNOISSEUR | 21,950 | 22,125 |
| 2.0 CDT CONNOISSEUR SE | 23,550 | 23,725 |
| | | |
| **CLASSIC MODELS AVAILABLE END 99 | | |
Rover 75 Main Specification List:
| | |
| --- | --- |
| Comfort Level | Special Equipment (SE) Models |
| Classic | |
| ABS & EDB | left plus - |
| Driver, Passenger & Side front airbags | on/off cold aircon |
| Electric front windows | 15 inch alloys (style 1) |
| Electric & heated door mirrors | |
| Radio / cassette with 6 speakers | |
| Steering wheel audio system controls | |
| Driver seat height / lumbar adjustment | |
| Permimertic alarm, remote CDL, immobiliser | |
| Front & rear chrome treadplates | |
| Second plip | |
| Rear centre armrest | |
| Pollen filter | |
| Leather steering wheel, handbrake grip, gear knob | |
| Cigar lighter | |
| Front passenger cupholder | |
| | |
| Club additional equipment | |
| ATC air conditioning | left plus - |
| 15 inch '8 spoke' alloys (style1) | 16" sports style alloys |
| Rear electric windows | Fog lamps |
| Rear cupholders (2) | |
| Illuminated sunvisors | |
| Speckled velour trim | |
| | |
| Connoisseur Additional equpiment | |
| Leather seats | left plus - |
| Powered & heated front seats | Driver intelligence pack: |
| Fog lamps | -Parking aid, Hi-line instruments, |
| Unique style 15" alloys (style 2) | -photochromatic rear view mirror. |
| Seat map pockets, box in armrest | Cruise control |
| Chrome door mirrors | Folding rear seat |
| Passenger lumbar support | Rear electric sunblind |
| | Alpine head unit & CD autochanger |
| | Memory driver's seat |
Further information:
Mike McHale: 0121 781 6814