[14 APR 99] ROVER GROUP PRESS RELEASE
New Rover Models For the 200 And 400 Ranges

Rover Cars has announced ten new additions to both the Rover 200 and Rover 400 ranges. Three distinctive themes are introduced to reflect different aspects of both vehicles.

The iS provides a sporting package, while luxury and comfort is presented by the iL models. Outstanding value for money is offered by the SEi. Each is available in a choice of body styles and the editions are powered by a variety of engines.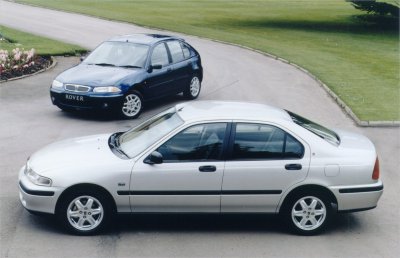 ROVER 200 iS AND ROVER 400 iL

Each of the three new derivatives are identified by distinctive wheels and unique trim combinations. The new 200 and 400 iS, iL and SEi widen the 200 and 400 ranges, thus ensuring that there is a model to suit all motoring requirements.

Prices of the new 200 models start at £10,995 for the 1.4 SEi three-door, while the 400 models start at just £11,995 for the 1.4 SEi five-door.

SEi
Offering a low-cost route to owning a highly specified Rover 200 or 400, the SEi models carry unique wheel trims and feature special interiors with fabric seats. The models also feature an electric sunroof, central door locking and CD tuner. Options include ABS, passenger airbag and electric front windows.

iS
Combining Rover's award-winning 1.4 litre and 1.6 litre 'K' and powerful 'T' series 2.0 litre petrol engines and 'L' series 2.0 litre diesel, with a visually appealing 'sporting' look, both models feature electric front windows, half-leather seats, front fog lamps, CD tuner, alloy wheels and rear spoiler (Rover 200 and five-door 400). The Rover 400 also benefits from air conditioning, while the Rover 200 models have an electric sunroof. Options include ABS (standard on 420) and passenger airbag.

iL
Rover 200 and 400 renowned ride qualities are complemented by a package of luxurious interior trim and carpets. Highly-specified interiors come with air conditioning, electric front windows, six spoke alloy wheels, and a CD tuner. The Rover 400 features full leather trim. Options include ABS (standard on 420) and passenger airbag.

Trim
All Rover 200 models feature Ash Grey and Morello Purple trim, whilst the Rover 400 features a combination of Ash Grey with County Green, Prussian Blue or Ash Grey trim dependent on body colour and trim level.

Rover 200 and 400 Special Editions

Colours:
200
400SEi
400iL
400iS
SOLID
Old English White
Brroklands Green
Solar Red
METALLIC
Morello Purple
Platinum Silver
Anthracite
Bermuda Blue
PEARLESCENT
Nightfire Red
Tahiti Blue
British Racing Green
Celadon Green
Trim:
200
400SEi
400iL
400iL
400iS
Morello Glacier / Stratos
Glacier / Velour
Leather
Leather
Silverstone / Leather
SOLID
Old English White
Ash Grey
Ash Grey
Green
Blue
Ash Grey
Brooklands Green
Ash Grey
Ash Grey
Green
Ash Grey
Solar Red
Ash Grey
METALLIC
Anthracite
Ash Grey
Ash Grey
Green
Blue
Ash Grey
Hawaiian Blue
Ash Grey
Platinum Silver
Ash Grey
Ash Grey
Green
Blue
Ash Grey
Bermuda Blue
Ash Grey
Blue
PEARLESCENT
Morello Purple
Ash Grey
Nightfire Red
Ash Grey
Tahiti Blue
Ash Grey
Ash Grey
Blue
Ash Grey
British Racing Green
Ash Grey
Ash Grey
Green
Ash Grey
Celadon Green
Ash Grey
On-The-Road-Pricing
| | | | |
| --- | --- | --- | --- |
| | 200 3dr | 200 5dr | 400 |
| 1.4 SEi | £10,995 | £11,495 | £11,995 |
| 2.0 SEi Diesel | £11,495 | £11,995 | £13,495 |
| 1.4iL | £12,495 | £12,995 | |
| 1.6iL | | | £14,495 |
| 216iL Auto | £13,495 | £13,995 | |
| 2.0 iL | | | £15,495 |
| 1.4 iS | £12,495 | £12,995 | £12,995 |
| 1.6 iS | | | £14,495 |
| 1.6 iS Auto | £13,495 | £13,995 | |
| 2.0 iS Diesel | £12,995 | £13,495 | £15,495 |
Further information:
Nick Argent: 01926 482400
Michael McHale 01926 482416