[06 MAY 99] ROVER GROUP PRESS RELEASE
Land Rover Freelander Top Selling 4x4 In Europe

The Land Rover Freelander is now the top selling 4x4 off-road vehicle in Europe. Launched in European markets during last year, Freelander is already outselling its nearest competitor by more than 40 per cent.

Land Rover's Freelander and all-new Discovery also currently occupy the top two spots in the UK off-road 4x4 market. In the top slot, the Freelander has, so far this year, sold more than double its nearest competitor, while the Discovery, the next highest selling 4x4, sold just under a third more than its nearest competitor.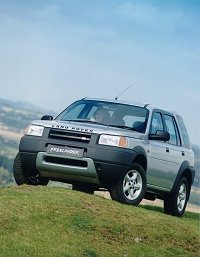 Sales in the UK of Land Rover's other 4x4 vehicles - the utility Defender and the luxurious Range Rover, are currently positioned fifth and eighth respectively.
Peter Kinnaird, Land Rover UK managing director said,
"This is an amazing performance considering that Freelander only started selling in volume at the beginning of last year with both the revised Defender Td5 and the new Discovery at the beginning of this year. Range Rover's continued success confirms its unrivalled position within the luxury car market."
In the first quarter of 1999, Freelander took 28 per cent share of the light 4x4 UK market sector, up from 23 per cent in 1998. During the same period the Discovery took 35 per cent of the large leisure 4x4 market, up from 32 per cent in 1998. The Defender, which is now also powered by Land Rover's own all-new five cylinder diesel engine, took a healthy 40 per cent of utility 4x4 sales.
Peter Kinnaird added,
"During 1998, Land Rover dealers in the UK invested more than £120 million of their own money redeveloping existing and building new premises. Dealerships in the rest of Europe have also made substantial investments in their customer facilities. The success of Freelander is a direct result of their efforts."
Further information:
Nick Argent: 01926 482400
Mike Gould: 01926 482422