[26 MAY 99] ROVER GROUP PRESS RELEASE
Rover 75 Leads To 800 Jobs At Oxford

An extra 800 jobs are being created at Rover Oxford as the Rover 75 goes into full production as part of a £700 million investment programme for the award-winning car.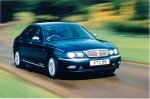 The jobs were announced today by Professor Werner Sämann, chairman of Rover Group at a ceremony to formally open the new, advanced manufacturing facilities. They will be filled by transfers from other parts of the company.

The opening was performed by the Rt Hon Andrew Smith MP, minister of state for employment and MP for Oxford East.
By July, the Rover Oxford workforce will total 2,700 with production of the Rover 75 reaching 1,660 units a week, operating on two shifts. By the end of 1999 production output will be 2,800 cars a week.
Professor Sämann said:
"At no time in the past has there been such a major transformation and such a high level of investment at Rover Oxford.

"We anticipate that up to 70 per cent of cars produced will go to export markets around the world. This is the result of major investment by the BMW Group which is the biggest inward investor in the UK."
Nearly £300 million has been invested at Rover Oxford in new body-building, paint, final assembly and logistics facilities to create "a factory within a factory" with world-class production processes.

The Rover 75 range goes on sale from 17 June, in the UK and will be progressively introduced into a total of 120 countries, world-wide.

The car has already been voted What Car? 'Car of the Year 1999'. The 16-model range at launch will cost between £19,530 and £25,630 in the UK.

Further information:
Brian Johns 01926 482414
Vin Hammersley 0589 162641