[07 JUN 99] ROVER GROUP PRESS RELEASE
Rover 75 Wins Endurance Charity Run

A Rover 75 has won a 24 hour endurance driving event organised by the High Performance Driving Club (HPC). The aim of the event was to drive as many miles as possible by circumnavigating Great Britain, taking in several motor racing circuits on the way. More than £68,000 was raised for Mencap.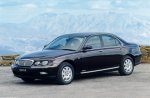 Rob Lyall and Brian Terry, long time members of the HPC, drove a Rover 75 2.0 V6 and managed to set the highest average speed of 55.4 mph and travel 1,330 miles, further than anyone else.

Brian Terry said:
"We were impressed with the super-smooth KV6 engine and the combination of power, fuel economy and long distance comfort. The Rover 75 is a superb grand tourer and the most stable saloon I have ever driven on a racing circuit, where we achieved speeds of over 120mph on every lap. Despite some very hard use we still managed 27 mpg."
The 24 hour event started at Bruntingthorpe in Leicestershire, flagged off by television presenter Roger Cook. The route included main roads to Snowdonia and onto the Anglesey Racing Circuit. The next stop was Edinburgh before taking in Knockhill Racing Circuit. The last leg of the event included Selkirk, Glasgow and Stirling before returning south to the Motor Industry Research Association (MIRA) headquarters at Nuneaton.

The racing circuits were used to accumulate mileage at above legal road speeds and to assess the performance and handling of the various cars used. The Rover 75 competed alongside a Jaguar XK8 and XJ8, Bentley Continental SC2, BMW Z3 and 528, Porsche Turbo and 911, Subaru Impreza and Legacy, Ford Cougar and an Alfa Romeo 166.

The proceeds of the event, which exceeded £68,000, will be used to purchase mini-buses converted for disabled people.

Further information:
Jill Howes 01926 482406
Nick Argent 01926 842400