[08 AUG 01] PHOENIX INITIATIVE NEWS
Phoenix Whitewash Uncovered

Coventry City Council's conservation officer George Demidowicz has answered the question perched on the lips of every visitor to Priory Garden – why has one of the walls been coloured white?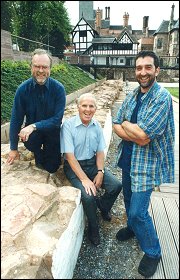 LEFT TO RIGHT:
GEORGE DEMIDOWICZ AND STONE MASONS FED WILKES AND JON HILL
Demidowicz is being quizzed about the wall's white finish every day by an increasing number of people being attracted to the site, but he says the reasons are simple.
"From a distance it looks like white paint, but it is actually a limewash that gives the wall that colouring," he explained.

"It was coated in limewash when it was originally excavated but over time the weather has removed many of the layers.

"We wanted to give it the authentic appearance of the inside of Coventry's first cathedral and we are extremely pleased with the result.

"It also gives a layer of protection to the wall which is very important as it is exposed to all the elements of British weather."
Stonemasons worked for three months to restore the wall, which stands parallel to Priory Row, and their predecessors' work can now be appreciated because of the limewash.
Demidowicz said:
"The white colour brings out the original masons' marks which are best seen beneath the bridge.

"Those marks date from the original masons who worked on the cathedral in the 12th century and formed some of the oldest crafted objects that can be seen in the city – every different symbol represents their individual signatures.

"There are six or seven different markings, like a Z or asterisk, which the masons used to signify that it was their piece of stonework going into the building."
Thousands of visitors have already viewed the garden which is part of the £45 million Phoenix Initiative since it was opened in April.
The new Visitors Centre, which will house a fragment of mediaeval wall painting from the apocalypse, will open later this month.
Phoenix Initiative director Chris Beck said:
"I am pleased that George has explained the reason for the colouring of the wall as it is the first thing I am asked about whenever I step out of the office!"