[13 AUG 99] COVENTRY CITY COUNCIL PRESS RELEASE
Council Tells Cyclists Where To Go

The superlative cyclists and reluctant riders in the city are being encouraged to explore Coventry by bike.

Coventry City Council and Coventry Health Authority have teamed up to produce a leaflet showing how easy it can be to cycle around the City.

The publication, which is designed to encourage those who might not have cycled for years, comes with this warning, "Regular Cycling can seriously benefit your health!"

The leaflet unfolds to reveal a street map of the city that is nearly two feet wide. The map will help people plan their cycle journey in and around Coventry using quieter and safer routes. Copies of the free map are available from libraries, cycle shops and the tourist information centre.

The map gives the locations of existing cycle routes and advisory routes. Advisory routes are on the road but follow the quieter streets and lanes. Information not normally contained on street maps but of great use to cyclists, such as the locations of steep hills and cycle parking facilities, is also shown.

The positions of Pedestrian and Toucan crossings are marked. Toucan crossings are designed to allow both cyclists and pedestrians to cross together, the cyclists do not need to get off their bikes. They get their name because "Two can cross".

The leaflet is also crammed with useful information to enable you to get the best out your bike including reminders of what cycle signs mean, contact details for local and national cycling organisations, and top tips to bear in mind when cycling.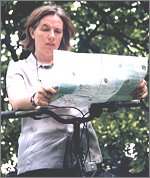 CLLR HEATHER PARKER
READING THE CYCLE MAP
"Nearly half of all journeys in the UK are under two miles and nearly three quarters are under five miles. Most people would find these distances easy on a bike"
said Councillor Heather Parker who speaks for the council on Sustainable Transport issues. A keen cyclist herself, Councillor Parker continued:
"Cycling is often the quickest way to get around. It's the healthy way to travel. Getting about by bike is a great way to get the daily exercise we need while saving on fuel and parking costs. The Council hopes that this leaflet will help more Coventry people to enjoy cycling, whether for work, school, shopping or leisure journeys."
MORE INFORMATION:
Jan Cook, Sustainable Transport Officer 024 76 832041