[08 SEP 00] COVENTRY CITY COUNCIL NEWS
Leader Faces Public Ahead Of Loo Showdown
BY ANTONY HOPKER

Members of the public will be able to grill the leader of Coventry City Council about pavements, pot-holes and public loos, in a special question and answer session next week.

Cllr Nick Nolan will install himself in the Council Chamber from 10.30am to 1.30pm and encourage people to pop in and ask him about the council's work.

When he came to power in May he pledged that the "3 Ps" would be the main priorities of the council this year.

He is holding the session two days before the cabinet discusses the latest move in the row over the location of the new city centre toilets.

More than 2,000 signatures were collected by members of the public outraged at the decision to close the information centre on the ground floor of the library and replace it with public toilets.

Campaigners stood inside the lobby area collecting signatures until they were told to leave.

They argue that the information centre is a vital resource that will be used less if it is moved upstairs.

There are also fears that the toilets will attract problems to an area often used by children.

Council officers say that there is no other suitable location.

In a report to cabinet members, they outline the other options and explain why they are unsuitable:
the refurbishment of the existing toilets in the Precinct was ruled out as the Precinct would have to be excavated, and there would be no wheelchair or disabled access.

there was no site available in the Precinct for a new building.

poor access and uncertainty over the car park's future made development of the temporary facilities in the Barracks a poor option.

no empty shop units owned by the council are available for conversion.
Cllr Nolan said he was hopeful that anyone who wanted to talk to him would be able to pop into the Council House on Monday.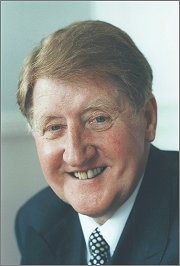 He said:
"We should value our local democracy – that's why I want to use this opportunity to meet with local people.

"The city council is continually trying to work more closely with residents.

"We intend to arrange some of our cabinet meetings in the community and are always willing to consider new ways for people to have their say."
Other events during the week will be an open day to allow people to express their views on the standard of maintenance in the city's cemetery grounds and funeral services.
There are also awareness campaigns to remind people to register their right to vote, and by Area Co-ordination to highlight their role in the city.