[12 SEP 00] COVENTRY CITY COUNCIL NEWS
Don't Be Conned By Get Rich Quick Schemes
BY ANTONY HOPKER

Small ads are to go up at newsagents all over Coventry warning people to beware of get-rich-quick home-working schemes.

A city-wide clampdown has been launched on the adverts, which frequently appear on posters, lampposts and traffic lights.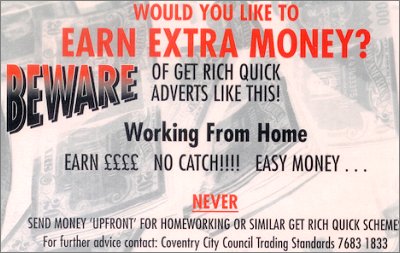 THE NEW CARD WARNING PEOPLE NOT TO FALL FOR THE LUCRATIVE HOME-WORKING ADS
They offer people the chance to earn thousands of pounds while working in their spare time or from home.
But often the promises are bogus, and the only people who make money are those who advertise the scams, not those who apply for the work.
Trading standards officers in Coventry have today launched a campaign to alert people to the dangers of being taken in by the advert.
They have chosen the Annual General Meeting of the National Group on Home Working, which is being held in Coventry, to launch the scheme.
Newsagents, post offices, supermarkets and DIY stores will be asked to display the council's home-working card, in the hope that the ad will catch people's eyes and warn them.
In addition, trading standards officers, street inspectors, police patrol officers, traffic wardens and street cleaning workers are being told to remove any of the adverts that they say.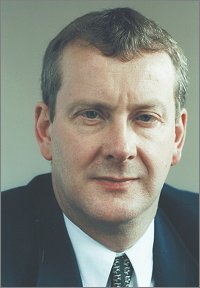 Cllr John McNicholas, cabinet member (Environmental Services) said;
"These get-rich quick home-working scams can and do attract vulnerable people who may wish to work from home because they have a young family or personal commitments and cannot work traditional hours.

"Our advice to people interested in home-working is simple – never send any money up-front to any organisation and get a copy of our free advice leaflet first.
Cllr Dave Batten, cabinet member (Development and Renewal), who was today addressing the meeting in the Central Methodist Hall in Warwick Lane, added:
"We are only one of a handful of local councils who employ a home-working officer and we do this because we place a lot of importance on this issue.

"There are many genuine income-earning opportunities. But there are also confidence trickster companies and it's these we want to get to the bottom of.

"We can offer one-to-one advice and support and try and improve working conditions for many people who feel cut off from the rest of the workforce."
People who want advice should call trading standards on (024) 7683 1833.