[14 SEP 00] COVENTRY CITY COUNCIL NEWS
Toilet Protestors Flushed Away
BY ANTONY HOPKER

Coventry's cabinet have told protestors against plans to put toilets in the ground floor of the Central Library that they are sticking with their decision.

And they said they didn't have to consult staff working in the Information Centre over the changes that would see the centre move upstairs.

Campaigners collected more than 2,100 signatures in a few days after hearing that the long-awaited city centre toilets would be put in the library.

There were several arguments against the plans expressed at yesterday's cabinet meeting.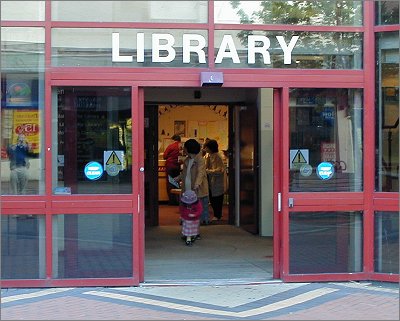 LOO'S IN THE HOUSE? THERE COULD SOON BE TOILETS ON THE GROUND FLOOR
Former library worker Cllr Karen McKay (Socialist, St Michael's) said staff were upset that they had not been informed of the proposals until after the decision has been made.
A restructuring plan has already been re-started because of inadequate staff consultation, she said, and the uncertainty of the new information centre was adding to a drop in morale.
In addition the library staff had faced the pressures of the single status debacle, a Best Value review, and a bid for extra IT funding from the government, while falling below many new national standards.
And users of the popular information centre were also upset that they had not been asked about the plans.
Cllr McKay told cabinet members:
"You cannot claim to be listening to people and then ignore them when they say they want something different.

"The proposal is going to decrease the space that the library provides.

"The information centre downstairs is very important and accessible and doing a good service.

"It provides a link to the library but has a separate function."
Protestor Bernard Moore said there were fears about safety among library-users:
"Parents told me they would not allow their children to go to the library unattended."
He added that with the Lower Precinct development now under way, it would be a good option to wait for new toilets to be built there.
He said:
"This has been going on for years, and another year won't make much difference."
Cabinet members were bullish about the protestors' claims.
Cllr John Mutton said:
"The biggest mistake that has been made for a long time in this city as having no accessible look in the city centre outside shopping hours.

"It does not need consultation with members of staff. If we tell members of staff we are transferring them from one part of the building to another we will explain why we are doing it."
Council leader Nick Nolan said the loos were in fact being moved out of the library, as the current toilets on the first floor were being moved.
Cllr Dave Batten, the cabinet member responsible for the decision, said:
"There will be no reduction in the size of the area that the public uses in the library.

"These toilets will be open when the library services are closed, seven days a week, bank holidays when people are in the city centre enjoying events."