[21 SEP 00] COVENTRY CITY COUNCIL NEWS
Transformed Canal Is Now Fully Alive
BY ANTONY HOPKER

Ten years of transformation along Coventry's once-derelict canal will come to a conclusion this weekend with the unveiling of the 39th and final piece of art.

The Canal Art Trail, which follows the canal from the city centre to Hawkesbury is believed to be the longest waterside art gallery in the country.

A special event called Coventry Canals Alive is being held on Saturday to mark the completion of the £2 million project.

The final piece of art – the Hawkesbury Gateway Feature – will be unveiled at the ceremony organised by the Foleshill Canals Alive Ranger Service.

As well as the public art, buildings along the waterside have been tidied up, signs installed and pocket parks opened during the last ten years.

The Canal Art Trail, co-ordinated by the council and Groundwork Coventry began in 1994 when local community artists from Coventry Arts Exchange were commissioned to create three 'pilot' pieces with the local community.

One of these was the colourful 'Waterwall', located at Leicester Causeway.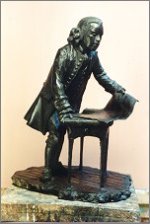 Following the success of this, other commissions include:
The one-and-half times life sized model of James Brindley in the Canal Basin - created by James Butler. The figure looks towards bridge 1 - the very bridge he designed back in the eighteenth century

'The Traveller and the Stream' and the Seats by the Water', by Avtarjeet Dhanjal, at Swan Lane

The Daimler heritage Marker, located on the towpath opposite the old Daimler Power House

Sculptural seating programme, including the 'Rope Coil' by Frank Triggs, the 'Folding Wedges' by Jim Partridge and the 'Stone Sofa' by Tim Shutter a solar powered light sculpture by Charles Quick.
Cllr John McNicholas, cabinet member (Environmental Services), said:
"This event, the biggest in Coventry's recent canal history, will have something for everyone. It will offer local people and visitors the opportunity to learn about the art, have fun and find out about the history and future of the canal.

"The regeneration of our canal has completely transformed the waterway and now it is a haven of tranquillity in the middle of a bustling city.

"Anyone that hasn't strolled along the towpath - enjoying the art, nature and beauty really should come and see what they have been missing."
The event, which includes, willow sculpture making, pole jousting, baby otters and fire-eating, starts at 11am at the canal basin and Hawkesbury Junction.