[29 SEP 00] COVENTRY CITY COUNCIL NEWS
Plea For More Foster Families To Sign Up
BY ANTONY HOPKER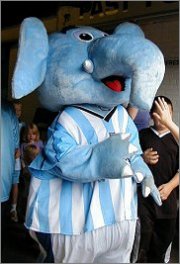 Sky Blue Sam is taking to the streets of Coventry tomorrow to try and encourage more people to become foster carers for children with disabilities.
A joint scheme is being launched between Coventry City Council and children's charity Barnardo's to try and end the misery for children forced out of the city because there is no one to look after them.
Up to ten youngsters needing specialist care have to go into foster homes as far away as Birmingham because there are no places for them in Coventry.
This means they have to live further away from their family, friends and have to ace the inconvenience of a lengthy journey to school every day.
The council decided to get involved with the Barnardo's Breakaway project after a successful pilot scheme in Kidderminster.
As well as making the lives of the disabled children better, it is hoped that finding placements within Coventry will save the cash-strapped social services department thousands of pounds.
It currently costs £17,000 a year to transport the children to Coventry every day, and the fees paid to external foster carers cost £615,000 a year.
Under the scheme in Coventry it is estimated that it will cost £30,000 a year to place each foster child.
A stall will be set up in Broadgate to give people information about the scheme, with Coventry City mascot Sky Blue Sam coming along to lend his support from 1pm to 2pm.
People who are interested in getting involved will be subject to the usual training and screening for foster carers. Those who want to know more but cannot get to the stall should ring the Breakaway project on 0800 073 8866.