[02 OCT 00] COVENTRY CITY COUNCIL NEWS
Public Vote For Wavy Hair
BY ANTONY HOPKER

Coventry City Council is a step nearer choosing its new look after members of the public picked their favourite option.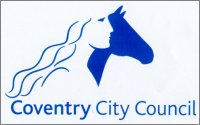 More than 80 per cent of the 1800 people who replied to a slip asking for opinions on the two choices of logo chose this image of Lady Godiva.
The results were presented to an advisory group of councillors set up to look at the new image.
Their recommendation will be presented to the cabinet on Wednesday, when a final decision will be taken.
It is expected that councillors will follow the public's mood and choose the same one.
Council leader Nick Nolan has already revealed that "Option A" was his favourite.
Cllr Phil Townshend, cabinet member with responsibility for overseeing the new look said he would be recommending option A:
"There was an overwhelming response to the new corporate identity and we have received nearly 2000 replies.

"I would like to thank everyone for their speedy responses, and for all of the comments and suggestions that we have received."
Cllr Derek Benefield, (Lib Dem, Upper Stoke), a member of the advisory panel, added:
"I fully endorse the choice for a new corporate identity. We need to move with the times.

"This new image is different but one that will stand out amongst the best."
Just six per cent of people who responded preferred B, while 11 per cent they had no favourite.
The decision to have a new logo designed was taken because it was felt that the current image of Lady Godiva was out of date.
Design agency Spencer Landor found 23 different uses of the logo across the council.
They came up with an image that represented a forward-looking city, but kept Coventry's historic link with Lady Godiva.
Cllr Townshend said the logo design cost £50,000, and it will be gradually introduced when items are replaced.
He added that abandoning the current cream background would save money as white paper and paint would be a lot cheaper.