[24 OCT 00] COVENTRY CITY COUNCIL NEWS
Lady Herbert To Get Her Facelift
BY ANTONY HOPKER

Work is starting on a project to restore a garden at the heart of Coventry city centre.

It is expected to take up to eight months to bring Lady Herbertís Garden back to its former glory.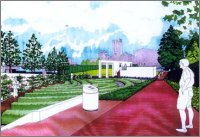 The £135,000 project is expected to take about eight months to complete and will go alongside the new Garden of International Friendship, created as part of the Phoenix Initiative.
The garden was originally built in the early 1930s by Coventry industrialist Sir Alfred Herbert.
Intended as a formal garden for the people of the city to enjoy, it was dedicated to the memory of his first wife, and was built on land previously occupied by slums.
Project manager Colin Dale said:
"This restoration project will lovingly restore some of the original features of Lady Herbertís Garden, which we know is a place held dear in Coventry people's hearts.

ďAs part of this work some old trees, which are in an extremely poor condition, will be replaced by new trees and the original site lines of the flower beds will be restored with careful and professional advice.
Improvements will also be carried out to the paving in the garden, which will not only recreate an original feel to the paving, but improve access for partially sighted people.
Mr Dale said:
"Another feature of the work will be to restore the existing paving to the exact condition of the original, with the added benefit of being able to put 'grooves' in the steps to the paving which will help blind and partially-sighted people find their way around the garden more easily."
The contract to oversee the work is being managed by Robert Rummey Associates, with original designs from Coventry City Council's Cultural Services Division.