[26 OCT 00] COVENTRY CITY COUNCIL NEWS
Sirens To Sound To Remember Blitz
BY ANTONY HOPKER

Air raid sirens will sound in Coventry next month as the city marks the 60th anniversary of the blitz.

It was 14 November 1940 when German bombers carpeted the city with explosives, targeting the factories that were supplying the Allied war effort.

More than 1,000 people lost their lives as Coventry became the first city in the war to be the victim of such an attack, and the cathedral and many other buildings were left in ruins.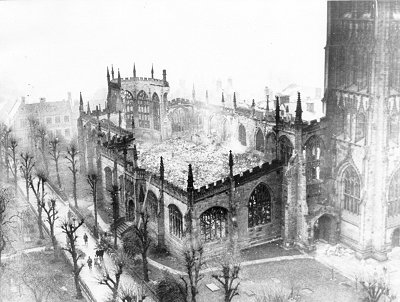 THE OLD CATHEDRAL AFTER THE ATTACK
Councillors are now encouraging people to join in a two-minute silence at 1pm on Tuesday 14 November to remember what had happened.
A ceremony will be held under the Broadgate canopy featuring Blitz survivors, representatives from the civilian services that lost colleagues, and VIPs from Dresden – now Coventry's twin city after it too suffered at the hands of bombers in the war.
The City of Coventry Children's Choir will sing at 12.45pm and the Lord Mayor will ask the city to reflect on the past.
At 12.59pm an air raid siren will sound, followed by a two-minute silence. During this time a Union Jack will be lowered on the footbridge in the precinct between Marks and Spencer and BHS.
The all-clear will sound, and there will be a poem about the Blitz called "The Heart of an Age-Old City", which was written by a nine-year-old child in 1940, prayers and a choir.
People's experiences in the blitz will be on show at the Herbert Art Gallery, and there will also be a Blitz exhibition at the Museum of British Road Transport.
Ex-United Nations Assistant Secretary General Graf Hans Von Sponeck will be presented with the Coventry International Prize for Peace and Reconciliation at 3.30pm in the cathedral ruins, and he will deliver a lecture at 4pm.
In the evening there will be a performance of Britten's War Requiem in Coventry Cathedral.
Lord Mayor, Cllr Sheila Collins, said:
"I hope that all Coventry citizens feel able to join in this two minute silence to reflect on the city's darkest hour and to continue our commitment to peace, reconciliation and friendship.

"Blitz survivors have seen the city transform from rubble into a thriving multicultural community and I feel that this event will be an opportunity for us to look ahead to an even better future."
There will also be a two minutes silence in West Orchards Shopping Centre on Saturday 11 November at 11am to mark Armistice Day.
SEE: [06 SEP 00] 20 THINGS YOU SHOULD KNOW ABOUT THE BLITZ IN COVENTRY