[30 OCT 00] COVENTRY CITY COUNCIL NEWS
Youngsters Get Help With Learning Blitz
BY ANTONY HOPKER

School children throughout Coventry are being given the chance to learn more about the blitz with a CD that brings the experience to life.

Interviews from Blitz survivors, photos of the city following the bombing on 14 November 1940 and other archive material is now being made available on the disc.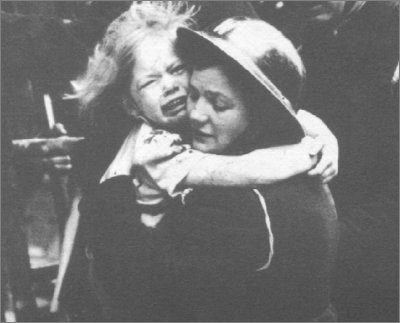 A GIRL CRYING AS SHE IS RESCUED IN THE BLITZ
It has been produced as part of the Coventry Lives project set up to document oral history from members of each generation.
Officers working in the city archives have spent nine months gathering the material and taping interviews with dozens of blitz survivors.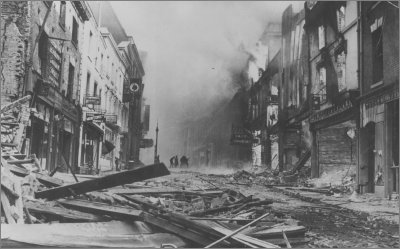 HERTFORD STREET AFTER THE BOMBING
Together with officials from the Education Support and Advisory Service, they have put together the CD Rom for use by children.
Gill Coates, a teacher at Potters Green Primary School, aid she was amazed by the range of information available in the archive that she found when carrying out research for the CD Rom.
She said:
"This is certainly one of the most innovative schools resource on the Coventry blitz that I've ever come across.

"I found letters from a Warwickshire coach company that evacuated children from the city after the blitz.

"I even found records that listed the numbers of pencils provided to Warwickshire village schools to cater for the influx of city youngsters."
Cllr George Duggins, cabinet member (Education and Library Services), said:
"This is an excellent resource that allows young people an incredible insight into the city's history.

"I'm sure that schools will be using it for years to come."
Cllr Joan Wright, cabinet member (Culture and Leisure Services), added:
"This will help children understand about life in Coventry during the blitz. It tells a story that we should never forget and will also encourage future generations not to let it be repeated ever again."
SEE: [26 OCT 00] SIRENS TO SOUND TO REMEMBER BLITZ
SEE: [30 OCT 00] COMMENT: IS IT TIME TO LEAVE THE WAR BEHIND?