[06 NOV 00] COVENTRY CITY COUNCIL NEWS
New Book Opens Up Blue Coat History
BY ANTONY HOPKER

New pictures of Coventry's historic Blue Coat school and Lych Gate Cottages have been uncovered and published in a new book detailing the history of the buildings.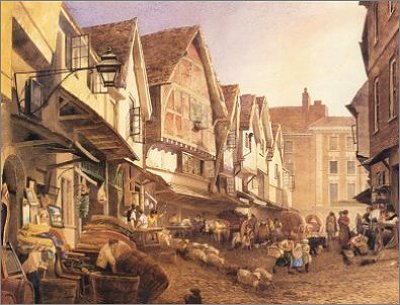 GREAT BUTCHER ROW 1843-50
The story of the row of cottages and the school, which have both been restored as part of the city's Phoenix Initiative, has been researched by the city council's conservation officer George Demidowicz.
He said:
"Both Blue Coat School and the Lych Gate Cottages have a history going back to the medieval period.

"Thanks to the city's Phoenix Initiative the school has been restored to its former glory but the opportunity has also been taken to recreate the fascinating history of these buildings and make the results accessible to both Coventrians and visitors to the city.

"It has been a pleasure to have been involved with the Old School that was described when newly built in 1857 as 'an ornament and credit to the city' "
To celebrate the launch, current Blue Coat School pupils - now in Terry Road, Stoke - dressed in costumes worn by school pupils at the turn of the last century, while ex-pupils who remembered the original school also turned out.
The A4 sized book has 56 pages and 48 figures including a centre spread of four colour plates.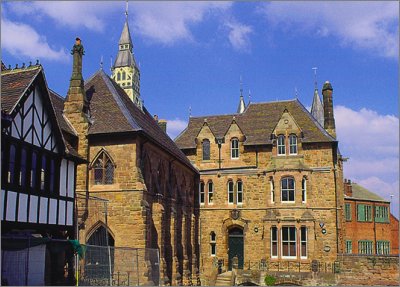 THE SCHOOL AS IT IS NOW
It costs £5 and is available from the Tourist Information Centre, the central library, Herbert Art Gallery and Museum, the City Record Office and the City Council's Tower Block Reception in Much Park Street.