[17 NOV 00] COVENTRY CITY COUNCIL NEWS
Hippodrome To Be Demolished, Judge Rules
BY ANTONY HOPKER

A High Court judge has given the go-ahead to Coventry City Council to demolish the Hippodrome as part of the Phoenix Initiative.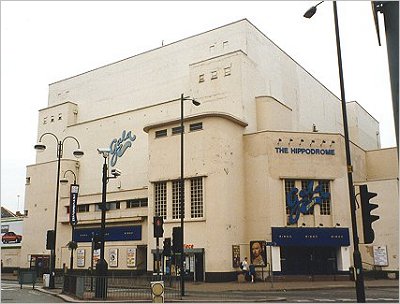 THE HIPPODROME WILL BE DEMOLISHED NEXT SUMMER
The building's owners Gala Bingo argued that the original decision to award a Compulsory Purchase Order following a planning inquiry had been based on incomplete information as traffic orders relating to the scheme were not in place.
Deputy High Court Judge Nigel Macleod QC today threw out Gala Bingo's challenge. He said the decision made by Deputy Prime Minister John Prescott was meticulous, rational and well explained and he saw no reason to rule the decision unlawful.
The High Court also took the unusual decision to award all costs of the case to the second defendant, in this case Coventry City Council and refused Gala Bingo the right to appeal against the decision.
It means that the current Gala Bingo Hall building, formerly the old Hippodrome Theatre, will be demolished some time during next summer to make way for the final stage of the £40m Phoenix Initiative.
The development will see the creation of an open plaza called Millennium Place, which is planned to become the focus for that part of the city centre.
It will also house the newly refurbished award-winning Museum of British Road Transport.
Cllr John Fletcher, chair of the city's Millennium Forum, said:
"This is tremendous news for the city. The High Court decision basically means that we have cleared the final hurdle in delivering the Phoenix Initiative.

"The fact that we have also been awarded court costs, which is very unusual in these types of hearing, and there is no right of appeal are an added bonus.

"We can now look forward to really getting moving on delivering something special for the people of Coventry."
Chris Beck, Project Director for the Phoenix Initiative, said:
"The judge's ruling removes the only major obstacle to the completion of the Phoenix Initiative. The High Court challenge has been a lengthy and costly process.

"It has delayed the scheme by some six months and I hope we can now get on with our work and deliver what the CPO Inspector called 'an astonishing stroke of civic design'.

"We know the old Coventry Theatre and Hippodrome building holds a lot of memories for people, but the building has deteriorated so much over the years that it was no longer viable for it be reborn as a theatre or performance venue."