[23 NOV 00] COVENTRY CITY COUNCIL NEWS
Lower Precinct Murals On The Move
BY ANTONY HOPKER

Preserved murals depicting Coventry's history are to be taken out of the city centre shortly to make way for the Lower Precinct development.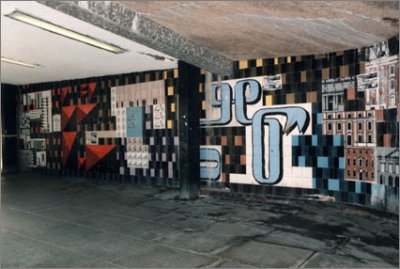 THE MURALS AS THEY ARE NOW
English Heritage has given developers Costain Skanska the go-ahead to remove them. They will be put back in early next year.
The murals, which were located on either side of the Lower Precinct, represent some of Coventry's history, along with a map.
They were all created out of small crafted tiles as part of the rebuilding work following the Second World War.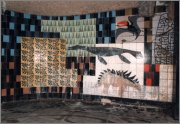 Like the famous round burger bar, they have been protected by English Heritage as prime examples of their era.
Their removal will enable the developers to go full steam ahead on the widening of the access way to the Lower Precinct.
The murals will be removed, cleaned and put in their new location in Lidice Walk, opposite the entrance to C&A, in January 2001.
Peter Collard of the City Centre Company said:
"We are delighted that the work on the £40 million Lower Precinct investment continues at a great pace and is still on target to be completed by Autumn 2001.

"The new location of the murals will enable a part of Coventry's history to be preserved, and moved to a much more high profile location, which forms part of the new development in the Lower Precinct."
Terry Evans, Project Manager from Costain Skanska said:
"English Heritage have been very helpful by providing advice and guidance on the removal and reinstatement of the mural.

"I am delighted that we are able to progress the work on the mural to ensure that it is moved to its new location in Lidice Walk."
Costain Skanska have developed a web site which includes regular updates on the work being undertaken in Coventry, it can be found at: www.lowerprecinct.com
SEE: [25 JUL 00] THIEVES MARR LOWER PRECINCT CEREMONY