[01 DEC 00] COVENTRY CITY COUNCIL NEWS
Hippodrome Campaigners Continue Fight
BY ANTONY HOPKER

Campaigners battling to save Coventry's Hippodrome have pledged to continue their fight as long as the building is still standing.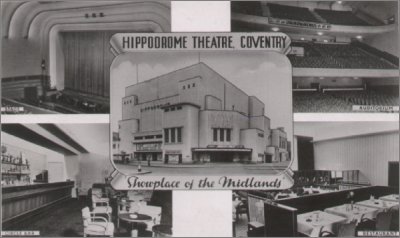 A 1952 SHOT OF THE HIPPODROME
The former Coventry Theatre is earmarked for demolition as part of the Phoenix Initiative in the city centre.
Last month, Gala Bingo, the current owners, lost a legal challenge trying to prevent Coventry City Council from making a compulsory purchase order for the building.
It is now scheduled to come down next summer to make way for a square and an improved frontage for the Museum of British Road Transport.
But the campaigners say they are going to continue in their efforts to save the theatre, which they see as an important community facility.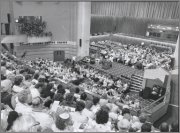 Michael Newman of the Hippodrome Appreciation Society said the loss of the bingo hall would be devastating for some people. Gala Bingo have been offered a new site on the Pool Meadow car park.
And he appealed for help in keeping his society going.
He said
"Many people who use the building are very angry that Coventry City Council are knocking it down, just for the sake of it, to make a new look Coventry city centre for the Millennium.

"Why, with alteration to the plan and a complete front exterior refurbishment, the Gala Bingo building could not stay is beyond my belief.

"At the moment the Hippodrome Appreciation Society Ltd, could do with some help with donations as computers need paying for, we require cartridges to print on and the paper to print onto. Any help would be very much appreciated."
Mr Newman said the area was designated as a conservation area in 1969, and the Phoenix Initiative would encroach on this.
Planners say renovating the building is impractical, and restoring it to its use as a theatre unviable. They also say that the area would be improved by the scheme, which includes the restoration of Lady Herbert's garden.
Anyone who can help Mr Newman should email him at Meadowland37@aol.com