[07 DEC 00] COVENTRY CITY COUNCIL NEWS
Gala Admits Defeat In Hippodrome Fight
BY ANTONY HOPKER

Major demolition work is to start to prepare Coventry city centre for the Phoenix Initiative next month after the owners of Hippodrome conceded defeat in their legal battle against the scheme.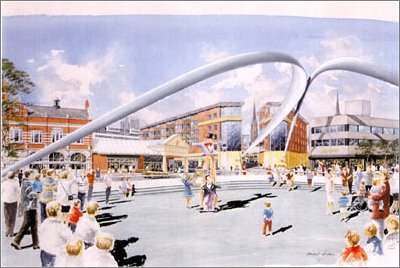 MILLENNIUM PLACE
The only option open to Gala Bingo was to petition the Court of Appeal for the right to overturn last month's High Court decision.
The judge in that case ruled that the Government had considered the appropriate facts when giving the go-ahead to issuing the compulsory purchase order for the Hippodrome.
He also refused to give Gala the right to appeal against the decision.
Gala could have sought to overturn this ruling in the Court of Appeal, but have instead thrown in the towel. Negotiations are now to continue over the possibility of building a new venue on the car park at Pool Meadow bus station.
Gala's chief executive John Kelly said the decision to give up the struggle had been a hard one.
He said:
"We remain convinced that we were absolutely right to challenge the CPO in order to save the hippodrome and we have very carefully considered our legal position following the High Court ruling.

"Sadly, because the chances of a successful appeal were slim and to put to an end the uncertainty, in the interests of our customers and staff, we have come to the conclusion that the fight has to end here.

"It was an incredibly hard decision in view of the overwhelming support we've had from our team at the Hippodrome, our members and Coventry people in general.

"All of us here at Gala would like to thank everyone for backing us."
Phoenix Initiative project director Chris Beck said demolition work could now begin to allow the creation of Millennium Place.
First to go will be the Fairfax Street car park. Work is scheduled to begin on 8 January.
Mr Beck said the rear of the car park has already been demolished, but the main section had to stay because there were businesses underneath it.
Only one, a greengrocers, remains, and Mr Beck said that will close after Christmas as it has now been served with a compulsory purchase order.
He added that the Hippodrome was not being demolished until the last moment, to allow bingo-goers the chance to use the facilities as long as possible.
He said:
"It looks as if it is going to go in July. We are still negotiating with them on whether they want to take the option at Pool Meadow."
SEE [17 NOV 00] HIPPODROME TO BE DEMOLISHED, JUDGE RULES