[12 FEB 01] COVENTRY CITY COUNCIL NEWS
City Medieval Painting Find Excites Experts
BY ANTONY HOPKER

A medieval wall-painting discovered in an archaeological dig beneath the ruins of Lady Godiva's priory has been hailed as one of the most important finds ever.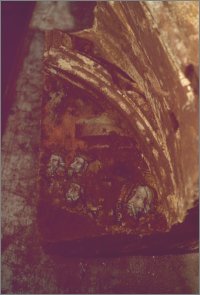 The fragment of the fresco was found during excavation work for the Phoenix Initiative, and is thought to be one of the best portrayal of the apocalypse from medieval times.
It dates back to around 1360 and was painted on the chapter house of the Benedictine Priory which had grown from the building Godiva constructed in the 11th century.
Archaeologists were amazed to find that the colours on the fragment had survived. It had been sheltered by the rubble caused by the demolition of the monastery and cathedral in 1539.
Although the find measures just 40cm by 20cm, it is big enough for experts to see how the whole thing would have looked, as the colours have been well-preserved by their 460-year stint underground.
It is now in storage before being sent for conservation. By being exposed to air it runs the risk of drying our and the pigment fading.
Art historian Miriam Gill, of the University of London Courtauld Institute said:
"The artistry of the painting, the very high-level of detail and the copious gilding are indicative of a work of exceptional quality. There are few surviving English monumental murals with which comparison can reasonably be drawn."
Margaret Rylatt, archaeologist in charge of the phoenix dig, said:
"Previous to finding that piece we found a small fragment and we couldn't believe our luck. We were delighted with it because it had a head on it.

"One always gets excited when you get a face, someone from the past,.

"We recognised it had to be very important, but we didn't think it was so historically and artistically important."