[13 FEB 01] COVENTRY CITY COUNCIL NEWS
Names And Faces of Coventry's Past Uncovered
BY ANTONY HOPKER

A medieval mystery has been uncovered deep under Coventry city centre as archaeologists try to put some names and faces to the city's past.

Forty tonnes of souvenirs and artefacts revealing the grandeur and importance of medieval Coventry have stored from the archaeological dig in the city centre.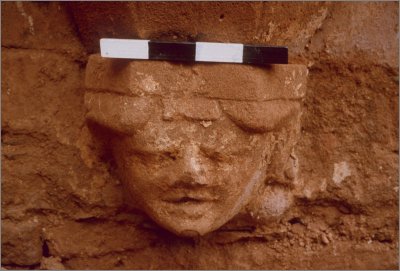 ONE OF THE "STOPS" FOUND IN THE DIG, AND (BELOW) ONE OF THE MYSTERIOUS FACES OF THE PARK
Archaeologists are almost blasé about new finds, which would have Mick Aston and his merry bunch of Time Team diggers leaping around in a frenzy of delight on Channel Four's programme.
And it isn't just objects that are being dug up, but glimpses into the lives of the people who lived in the city in the 14th century.
With the cathedral and monastery built originally by Lady Godiva, and expanded, and the parish church of Holy Trinity and the growing church of St Michael's next to one another, the city was an important religious centre.
Pilgrims would come to Coventry from all over the world, and approach the Benedictine Priory down Palmers Way.
Now a tiny little side street linking Trinity Street and Burges, it was part of Coventry's intricate network of lanes, similar to the Shambles in York.
It was perhaps one of these pilgrims who has give archaeologist Margaret Rylatt her latest detective mystery.
One of the hundreds of medieval floor tiles has a name on it – Walter Jacks. There is no record of a man of this name living in Coventry – so who was he.
Mrs Rylatt said:
"He must have done something important to have had his name on the tile. We've no idea who he is, but he must have been a benefactor."
Putting together the scant pieces of a jigsaw that could lead to a discovery about how someone lived, or what they were doing in Coventry is the endearing part of the challenge for archaeologists.
As well as the mysterious Walter Jacks, there are unknown faces to investigate, immortalised in stops on the walls of the old undercroft.
Some are obviously important religious figures, such as cardinals, but there is a variety of faces.
Mrs Rylatt said:
"There are different characters. You can distinguish between one being a monk and another cardinal, but we don't know who they are."
Trowels and brushes have largely been dispensed with for a project this scale, as diggers have been used for the vast excavations carried out as part of the Phoenix Initiative.
People will be able to see some of the remains of the cathedral once the work is completed as the new visitor centre at JFK house will be built on stilts – allowing people to walk straight into the city's past.
Meanwhile, the detective work will continue.
SEE [12 FEB 01] CITY MEDIEVAL PAINTING FIND EXCITES EXPERTS