[15 FEB 01] COVENTRY CITY COUNCIL NEWS
Campaigners Try To List Doomed Hippodrome
BY ANTONY HOPKER

Campaigners battling to save Coventry's Hippodrome from demolition have launched a last-minute bid to save the building by having it listed.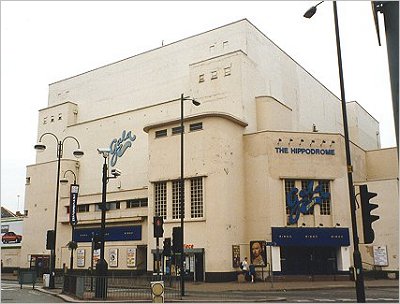 LISTED BUILDING STATUS COULD SAVE THE HIPPODROME
They are preparing a written application to English Heritage to get the art deco building listed before the bulldozers move in.
If they are successful in attracting interest, a visit to the site will be made. If listed-building status is conferred it will prevent the former Coventry Theatre from being demolished.
Irene Shannon, of the Coventry Society, said the theatre should be saved as an example of 1930s architecture.
She said English Heritage have not had the opportunity to inspect the building and give it listed-building status.
Mrs Shannon said:
"We've contacted the Civic Trust and English Heritage and will be writing to them. They will inspect it and make a decision."
Campaigners say the building, currently occupied by Gala Bingo, should be converted into a Civic Centre.
Mrs Shannon said:
"Why can't we have something for middle-aged people, who have got time on their hands. There's nothing in Coventry city centre except for students and people who like drinking."
She added that the Belgrade Theatre is too small to be able to attract the big name shows that need a large audience to fund them.
The Hippodrome is to be demolished to make way for a millennium square as part of the Phoenix Initiative.
In its place there will be a new frontage for the Museum of British Road Transport, and map of the world featuring the different time zones.
Coventry City Council say there is no economic case to re-open the Hippodrome as a theatre, and the building is in too poor a state and too unwieldy to bring benefit to the area.
Phoenix Initiative boss Chris Beck said he was unconcerned by the application to give it listed-building status.
"An application was made two years ago. English Heritage said the building was interesting, but did not want to list it."
SEE [05 JAN 01] HIPPODROME WILL NOT BECOME CIVIC HALL