[19 FEB 01] COVENTRY CITY COUNCIL NEWS
Locarno Memories To Go On Show In Library
BY ANTONY HOPKER

The halcyon days of the old Locarno nightclub in Coventry city centre are to come flooding back with a trail of clues to bring back memories of the former dance hall.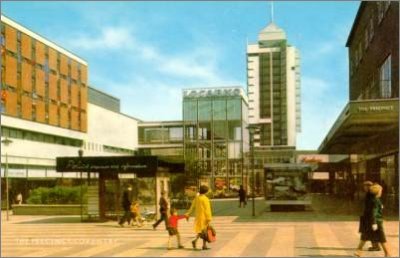 A VIEW OF THE LOCARNO, NOW THE CENTRAL LIBRARY
A discovery trail of clues is being created by two local artists to mark out features such as the dance floor and bar in the building, which is now the central library.
The project called "Shelf Life" will consist of a trail of specially created books and objects installed at carefully planned points in the library.
These will have been inspired by areas of the former night club - such as the dance floor or the bar, and linked to what occupies that space in the library today, such as natural history or engineering books.
Each book/object will cross-reference with others in the library, to give clues for the user to follow the trail. It is intended that to be a fun way of discovering what the library has to offer.
Coventry artists Janet Vaughan, a theatre designer and visual artist, and Derek Nisbet, a composer and film-maker, will be bringing together the opinions and ideas of the staff and public to see what will go in the trail.
Derek said:
"We are hoping that local people's memories of The Locarno will help us to build up a picture of what it was like and in turn share that with others.

"The artworks will use people's stories to create a series of windows into the past."
Visitors taking part in the "Shelf Life" trail will have an initial set-off point with a clue picked up from the information desk or advice from a librarian.
As well as books and objects, the trail could include a specially- composed microfiche 'film'. There might also be on-line elements which could be accessed via the library's Information Technology Centre.
The artists have been based at the library since last week and the completed work will be in place by the end of April.
In addition to the library, the artists will be creating works of art in waiting/reception areas at Tower Block, Much Park Street, the Coventry Sports Centre, Spire House, New Union Street and the Herbert Art Gallery & Museum.