[07 APR 01] COVENTRY CITY COUNCIL NEWS
Time Team Pays Virtual Homage To Coventry

Channel 4's Time Team have taken their interest in Coventry's past one step further by adding a major section to their website about the current Phoenix Initiative excavations.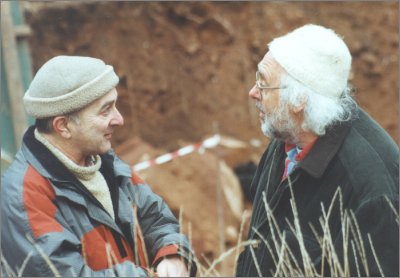 TONY ROBINSON AND MICK ASTON FROM TIME TEAM
The Time Team recently broke new ground in Coventry when the city became first site to be visited a second time by the TV archaeologists.
Such has been the importance of the magnificent finds from the site of the old cathedral the Channel 4 website has invested significant resources to use the latest web technology to document the investigations.
George Demidowicz, the City Conservation Officer, said it is another feather in Coventry's cap:
"It is great to see the project gain yet another first for the city. Such was the interest initially shown by the programme makers and the subsequent positive feedback after the programme was shown, a new website was commissioned to show people around the world what is going on here.

"Now, not only can people log on and view the usual pictures of the site, they can also take a 360 degree panoramic view around the area, zooming in to see specific individual details of the work, such as the stairwell and floor of the original priory.

"In addition you can watch video footage of the actual excavation work taking place and hear interviews with key members of the project explaining what has been found there since excavation work commenced. It really is superb and what astounded me was the actual standard of the footage, which is excellent. I would encourage anyone with any interest in the project or the city's history to take a look."
The website address is www.channel4.com/nextstep/timeteam. Some of the video and panorama files take a significant time to download - but they are certainly worth the wait.
The next completed stage of the Phoenix Initiative will see the official opening of the Priory Gardens and Cloister in Hill Top by the Holy Trinity Church on 14 April.