[12 JAN 01] COVENTRY AREA COORDINATION PRESS RELEASE
Community House Gets Makeover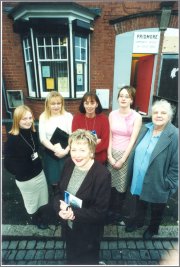 Area Co-ordination North has stepped in to "do a Carol Smillie" on the Pridmore Community House.
The house, on the Pridmore and Guild Estate, acts as a community centre five days a week offering local people a range of services.
Years of use had started to take its toll on the house so Area Co-ordination has stepped in to freshen it up with a total makeover. It now sports new decoration and carpets, a telephone system and new office equipment.
Pictured are: Janet O'Doherty (front) with voluntary workers (right to left) Tracey Williamson, Candy Sutton, Una Labbett, Lynda Carty and Sandra BoyceDevelopment Officer Janet O'Doherty said the makeover had given the house a new lease of life.
"It was looking a bit tired purely because it is so well used but the work has transformed it. Coventry Contract Services carried out the work and have done a wonderful job."
The house is open between 11am and 2pm on weekdays and is used for, among other things, surgeries by City Councillor Heather Parker, Orbit Housing and Foleshill Information Centre, a local mothers' and toddlers' group and sessions for nine to 12 year olds run by Community Education.
Cllr Heather Parker said the improvements had made a massive difference to the house.
She said:
"It is a very good place to hold surgeries and the work is a vast improvement. The upstairs now has desks and is far more professional while downstairs is more comfortable and welcoming."