[22 JAN 99] COVENTRY CITY COUNCIL PRESS RELEASE
Thumbs Up For Arena 2000

Arena 2000, the Sky Blues super-stadium in Foleshill, has today been given the thumbs up by the Department of the Environment, Transport and the Regions.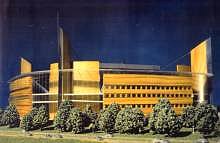 The City Council has received the news that the Secretary of State doesn't want to hold a public enquiry and that Coventry can approve the planning application for the Foleshill Gasworks site, which includes the £60 million Arena 2000, a retail centre and leisure complex.


A delighted Deputy Leader of the Council, Cllr Arthur Waugh, said today;
"Arena 2000 is the flagship of the City Council's plans for the regeneration of the north of the city. This decision will trigger changes which will bring about more jobs, more opportunities for local people and a new image for the area.

"Now the major hurdle is over, it's full speed ahead on the scheme. There's still a lot of details to be worked up and legal agreements to be put into effect but we will now definitely be seeing the Football Club kick off in Coventry's Arena 2000 in 2001."
Coventry City Chairman Bryan Richardson said:
"To say the least I am absolutely delighted with this decision both for Coventry City and the City of Coventry. The creation of the most innovative, state of the art arena in Europe in our city will give a massive boost to the region.

"With the Arena on its way, the future for Coventry City has never looked better, and as a venue in England's World Cup bid it will also bring international prestige to both club and city."
NOTES:
The City Council will now proceed with negotiating the details of the scheme,
eg sufficient access for public transport, impact of traffic for the area, acceptable noise levels.
Final approval will be sought from Planning Policy Team. If approval is given, detailed plans for the buildings will be drawn up.
The Foleshill gasworks site will require substantial clearance pre-development.

MORE INFORMATION:
James Russell, Assistant Director - Strategy & Planning 01203 831230