[28 FEB 01] CHRISTINE ODDY PRESS RELEASE
Former MEP Oddy To Stand For Parliament

Former Coventry MEP Christine Oddy is to continue her battle against her old party by standing against city MP Geoffrey Robinson at the next election.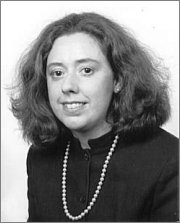 Ms Oddy lost her seat in the run-up to the European elections in 1999 when she was denied a top place on the Labour regional list of candidates.
Standing against Labour that year, and getting 36,000 votes in the regional poll, her feud has continued with an employment tribunal against the party following allegations of discrimination against her.
The former MEP for Coventry and North Warwickshire will now pose the third thorn in Labour's side come the election, which is likely to be in May unless the foot and mouth crisis continues to paralyse the country.
Last month city councillors Dave Nellist and Rob Windsor said they would stand as Socialist candidates in Coventry North East and Coventry South respectively.
Ms Oddy will stand in Coventry North West as an independent. She will be up against millionaire Geoffrey Robinson, who doesn't live in the city and resigned from the Government in the wake of the row over his loan to Peter Mandelson.
Ms Oddy said she will focus on the way pensioners have been treated and on public transport in her campaign.
She said:
"I have decided to stand as a candidate in the forthcoming General election in response to request from a large number of people locally.

"Unlike the sitting MPs, I represented the whole of Coventry for ten years from 1989 until 1999.

"I now want to stand in Coventry North West because it is the area with the largest proportion of older voters.

"I feel strongly that pensioners have been treated badly by this and previous governments.

"I shall be campaigning to restore the link between the state pension and earnings and to have the cost of care in residential homes properly funded.

"Some of the poorest council wards with high levels of unemployment are in Coventry North West and there continues to be haemorrhaging of manufacturing jobs from Coventry.

"As a regular public transport user myself I am deeply concerned about the public transport system and the unreliability of the railway service in particular.

"As a Coventry Kid I care about my city and want to continue to serve the people full time."
A fundraising social event to help with campaign funds has been organised on Friday from 8pm at the Four Provinces Social Club in Allesley Old Road, Chapelfields.