[13 DEC 00] LIZ LYNNE MEP NEWS
Lynne Fumes As MEPs Light Up

Tough new anti-tobacco rules are to be brought in by the EU, but Coventry and Warwickshire MEP Liz Lynne is calling for a crackdown on smoking in the parliament itself.

Ms Lynne helped vote through tough new measures today forcing manufacturers to use larger health warnings.

But despite the European Parliament in Strasbourg voting to pass the Tobacco Sales Directive, her fellow MEPs piled out of the chamber and started smoking in non-smoking areas.

It meant that the Liberal Democrat MEP, who suffers from asthma, had to go out of the building, and couldn't join in celebrating the new rules.

From 2004 onwards the following restrictions will apply:
health warnings on cigarette packs will be much larger, covering 30% of the front and 40% of the back of the packets.

Governments will have the right to insist that warnings also feature
vivid pictures showing the consequences of smoking
misleading terms such as 'light' and 'low tar' will be banned
manufacturers will have to declare every extra ingredients added to their products, while additives which increase the addictive power of cigarettes will be banned altogether.
Ms Lynne said:
"I am delighted to see Parliament voting for a radical improvement on the original proposal from the Council of Ministers.

"This is not about persecuting smokers or banning tobacco but about strengthening individual responsibility and ending smoking's glamorous image."

"I was glad to see most MEPs voting for tough action, but today also showed how far we have to go to control this problem. Immediately after the vote, a large number of MEPs left the chamber and lit up in the non-smoking area in the foyer so I could not leave the chamber, as tobacco smoke gives me an immediate asthma attack.

"The irony was incredible - maybe they were upset at losing the vote. I had to stay inside to wait for the next session.

"The quaestors of the Parliament are still completely failing to enforce the rules. There are quite a number of MEPs and staff who are also asthmatic. It is totally unacceptable."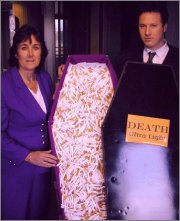 Ms Lynne has been working closely with the BMA in the campaign to persuade Europe to back larger health warnings with photographs and to outlaw use of spurious terms like Lights and Low Tar.
She added:
"Cigarettes are branded 'Ultra lights' as if they were some sort of low fat yoghurt. But they are just as dangerous.

"I hope the larger warnings and pictures will help to put off young people from taking it up. I developed asthma as a result of smoking - there were no health warnings when I started.

"In the European Union there is almost one tobacco death per minute. It is not a glamorous activity at all. It is a rotten, painful way to die. Now we should have a new directive to ban cross border tobacco advertising.

"And the European Union should make its tobacco control policies more consistent, and get rid of subsidies to EU tobacco farmers."