[22 DEC 98] GEOFFREY ROBINSON MP NEWS
MP Robinson Lobbies For Arena 2000

MP for Coventry North-West Geoffrey Robinson has lobbied government in support of the proposed new 'Arena 2000' stadium, which will succeed Highfield Road as home to the Sky Blues.

The 40,000-seater stadium, which will stand on the site of the old Foleshill Gasworks, will cost an estimated £150 million to build and has been pencilled in to open for the first match of the 2001 season.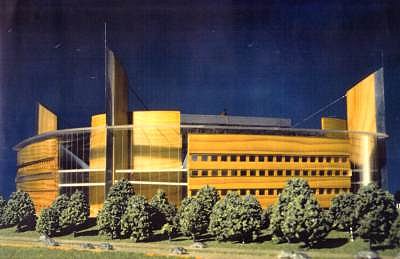 ARENA 2000

The ambitious proposals include a retractable pitch and roof, a number of shops and stores and a railway station for supporters' access.

The club are currently awaiting final planning approval from central government for the project, and Mr Robinson wrote to Minister for Regions, Regeneration & Planning Richard Caborn giving his support with the proposal.

The letter, which was penned two months ago, has now caused controversy because of the Paymaster General's links with the club that he holds a significant share of.

However, Mr Robinson has never hidden his connections with the club and placed all shares and financial involvement in the club into a blind trust when he became a Treasury minister.

The multi-millionaire is believed to have written the letter in his role as a constituency MP, on behalf of a constituent who requested that he tackled the issue.

The plans for the stadium have recently been amended by Coventry City Council who have informed government that they intend to axe 1,000 of the proposed car-parking spaces to encourage more use of public transport.

The news comes at the end of a miserable week for Robinson who is yet again embroiled in national controversy, this time over a £373,000 loan to fellow minister Peter Mandleson.

Shadow trade and industry secretary John Redwood called on the millionaire businessman to resign his post.