[03 JUN 99] WARWICK DISTRICT COUNCIL NEWS
Whitnash Terminal Towers Go To Public Enquiry

Two electricity terminal towers in Leamington Spa are set to be the subject of a public enquiry after Warwick District Council's Plans Sub-Committee objected to their re-siting.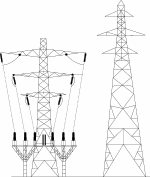 East Midlands Electricity hope to move the pylons, one of which is situated in Landor Road, Whitnash and the other behind Heathcote Industrial Estate, but permission to do so has not been granted.
A council spokesperson has revealed that the matter will now go to a public enquiry.
She said:
"The electricity board need to lay underground wiring between the two terminal towers and to do this they have said that they must re-site them very close to where they currently stand.

"The also want the new structures to differ slightly in design because they will have a low level platform, and we have objected to this along with the local planning authority.

"The reason for this is that in the opinion of the planning authority the project would have significant adverse effect on the surrounding environment."
The matter will now be referred to the Secretary of State for the Environment who is expected to take up the option of calling a public enquiry to allow people from both sides to put their point of view.
It is the second issue involving power supplies to cause controversy in the town in the last few weeks.
AP Leamington Social Club and two schools have been campaigning against proposals for the construction of a new gas turbine power station just north of Tachbrook Park.
However, this now looks certain to go ahead with a council spokesperson admitting it was a lot more of a straightforward issue.
She said:
"We have no problem with that particular issue and we have approved it."