[22 FEB 01] WARWICK DISTRICT COUNCIL NEWS
Sex Bomb Tom And Van The Man To Play Warwick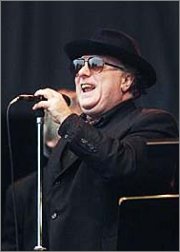 Tom Jones and Van Morrison are set to perform in separate open-air concerts at Warwick Castle this summer.
Three concerts are planned on the 20, 21 and 22, with the third night featuring songs from popular musicals.
The concerts rely on a licence being granted by Warwick District Council, which will meet on Monday to consider the issue.
In 1999 Simply Red played to 15,000 people for two nights at the castle. The event was hailed a success by some, but residents complained about the noise from the show, the construction of the rig and the sound-checking.
Following the shows, people living in Stuart Close and Castle Close presented a petition to the council demanding that the same mistakes not be made again.
The petition read:
"You assured us that the noise levels would be strictly monitored, but in no way were we prepared for the noise and nuisance which we endured during the concert itself and also during the days and nights of preparation leading up to the event, and the dismantling that followed.

"This has added considerably to the distress we felt in having the concert in such close proximity to our homes.

"May we ask why a noisy private party causing a nuisance to neighbours can be stopped by law, but an infinitely more ear-shattering noise from the castle is permitted?"
Environmental Health officer Richard Hall has urged the council's Licensing Committee to consider the residents when making the decision. The police and fire services have not give any specific objections.