[16 JUN 99] COVENTRY CATHEDRAL NEWS
Oddy Joins Cathedral Appeal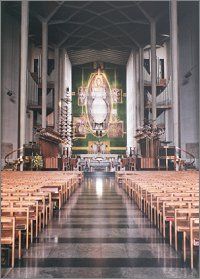 Fundraisers at Coventry Cathedral have been staggered by the enormous response to an appeal to raise £1 million to keep the historic building afloat.
The idea of inviting people from across the globe to pledge £1,000 to have either their name, or that of a loved one, engraved on a glass screen in a new chapel has clearly caught the imagination.
Coventry Cathedral development manager Michael Mogan has been delighted by the response, which has included calls from some of Coventry's more famous citizens.
He said:
"I have just been contacted by former MEP Christine Oddy who has expressed her wish to appear on the screen and it is fabulous to have her support.

"I think she is well respected by the people of the city which was shown by her support in the recent election and it is nice to see that people connected with the city are taking the Cathedral to heart."
The idea has only been implemented for a couple of weeks but Mr Mogan revealed that the figure raised so far is verging on £100,000.
He said:
"We are getting an average of half a dozen enquiries a day about names going onto the glass screen which will act to segregate a quiet area in the new chapel at the Cathedral.

"The letters outlining this idea only went out on the 27th of May so to be touching that figure already is marvellous, but it is essential because the running costs here are in excess of £400,000 a year."
The scheme now looks set to make provision for people who want to support the Cathedral and be involved but cannot afford to pay the £1,000 – providing they can find someone to donate a computer.
Mogan explained:
"I had a widow ring me up who wanted to help and loved the Cathedral but could not donate £770, which is what people are paying to go on the glass as tax rebates make it up to £1,000, so we have come up with another idea.

"Along with the glass we want to have a computer with a register of people who have made smaller donations whether it be £5, £10, £50 or whatever.

"Obviously though to do this we would need someone to supply a computer so we are hoping that the opportunity to be involved and have their name connected with saving the Cathedral will persuade someone to contact us."